Lake Michigan Fishing Expert Captain Kris Davis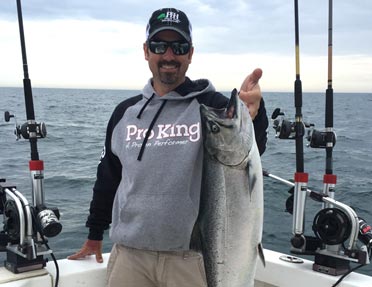 Captain Kris Davis has been hooked on fishing since childhood, and his fondest memories always include a fishing rod in his hand. With his Dad as his guide, he fished brook trout, walleye in the Boundary Waters, and explored the backwaters of the Mississippi River for bass. As a young man, he began chasing "big fish on big water," and Great Lakes fishing became his obsession.
Captain Kris enjoys the challenge of Great Lakes fishing and has over 15 years of experience on Lake Superior and Lake Michigan. No two trips are ever the same. The weather, water conditions, and fish temperament are constantly changing. Lake Michigan fishing is a riddle that he loves to solve and share with others!
Kris has always enjoyed the full experience of fishing: The anticipation of a day on the water. The excitement of the catch. The fun of being out on the lake with friends. The smiles and excitement when bringing a fish to the boat for the first time. The laughter and complaints of tired arms. The solitude of the trip back to the dock. His best fishing days are spent introducing others to the magic of Great Lakes fishing.
Captain Kris is a US Coast Guard licensed captain and is first aid/CPR-certified for the safety and security of all on board.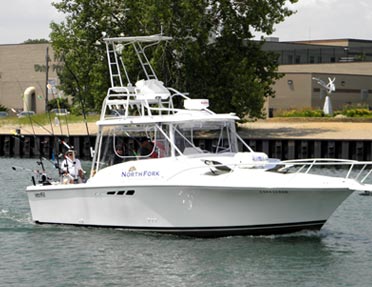 About the Boat
The pride and joy of North Fork Sportfishing Charters is theCorkscrew, a Luhrs 290 Tournament OPEN fully outfitted with twin 350 Marine Power engines, Raymarine Radar, brand new state-of-the-art Raymarine fish locator/GPS, Simrad Autopilot, Big Jon downriggers, and all of the tackle necessary to boat huge catches of salmon and trout.
Below deck is a comfortable cabin with a clean, private bathroom and two large couches. Above deck areas are roomy with plenty of seating both in and out of the elements. There is room for up to six people to spread out and enjoy an unforgettable experience on the water. For groups larger than six persons, contact us – we can can accommodate groups of any size with multi-boat charter options!
The only thing more important to us than catching fish is your safety and wellbeing. TheCorkscrewis US Coast Guard inspected, fully insured and fully outfitted with all mandatory safety gear, including Class I Personal Floatation Devices (PFDs) for all passengers.