Frequently Asked Questions about North Fork Fishing Charters
What's included in my trip?
The cost of your charter covers all fishing tackle, gear, bait, fuel for the length of your trip, and fish cleaning afterward. It also includes fish-finding gear and all required safety equipment. The only additional charges you may have are in purchasing fishing licenses/trout stamps and supplying your party's refreshments for the day.

Do I need a fishing license to fish?
Yes. Those ages 16 and older will need to have a current Wisconsin fishing license as well as a Great Lakes trout stamp. These can be purchased online through the Wisconsin DNR Go Wild website. Licenses can also be purchased on the boat.

What do I need to bring?
Wisconsin fishing license and Great Lakes trout stamp (age 16 and older)

Coolers to transport your fish home

Soft soled shoes

Weather-appropriate clothing. Keep in mind that weather conditions can change quickly on the big lake!

Food and beverages– we have plenty of room aboard for your coolers

Sun protection: sunscreen, brimmed hats, sunglasses

Cameras for pictures of your trophy catch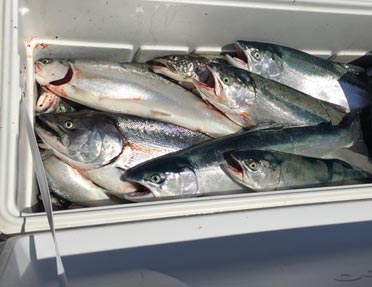 Where do we meet you and where do we fish? Your fishing party will meet Captain Kris at Simmons Island Marina, located at 45th Street and Harbor Drive in Kenosha, WI. Captain Kris uses years of expertise in fishing trout and salmon on Lake Michigan to seek out the ideal grounds for your fishing aspirations, taking into account the weather conditions, season, local fishing reports, and known hotspots in the area.

Is there a restroom on board the boat?
Yes! For your comfort, we have a clean, private bathroom, commonly referred to as a "head", below deck on theCorkscrew.

How many people can I bring on my trip?
TheCorkscrewholds up to six guests for chartered trout and salmon fishing trips. However, for groups larger than six, North Fork Sportfishing Charters calls upon other reputable charter captains to accommodate groups of any size on multiple boats. No group is too big, so don't hesitate to call and find out more.

Do we fish in the rain?
Yes, we will fish in the rain. Fish don't care what the weather is doing up top. They love it wet, so we do too. The Corkscrew has areas below deck to get out of the elements, but it's best to be prepared with rain gear in the event that the forecast calls for rain. You won't want to miss a minute of the action. After all, battling the elements is part of the pursuit!

Who cleans the fish?
Fish cleaning is included in the charter rates. Your crew will clean the fish.