When to Fish for Popular Lake Michigan Species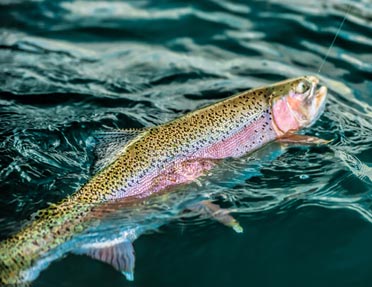 Prime booking dates for Lake Michigan trout & salmon charters depend greatly on your target catch. Throughout the charter season (late April- mid October) certain fish species hit their peak. Through years of experience, Captain Kris pinpoints the temperatures, lake topography, and ideal bait & tackle to target your trophy. However, certain fish are more active at specific times in the Lake Michigan fishing season:
April
In the spring, coho and brown trout hit their peak. As temperatures gradually increase after the winter, a great coho migration begins and they start hunting with great appetites. An excellent opportunity for catching your limit! Book early to stock your coolers for these great-eating fish!
May
If you have to pick one month to fish, May is it for reeling in a boatful of salmon and all types of trout. Conditions are perfect– all species are active and eager to hit.
July through October
King (chinook) salmon enjoy a long peak from July through October, with old 4-year-old fish hitting earlier and 2-3 year-olds rounding out the later part of the charter season. This long season means you have an even greater window of opportunity to net these aggressive, hard-fighting sport fish on Lake Michigan.